Your Product Our Foils
Use iconic Foils
Henan Foils is a worldwide professional company, aiming to raise and maintain high standards within graphic and plastic industry. Our stamping foils are truly brilliant products.
We produce multiple stamping foil formulations that will meet any of your specific physical and or technical requirements. Serving the domestic and international marketplace, Henan's hot stamping foils and holographic films are used to decorate and enhance your products visual impact and appeal.  No matter the size. HF is fully equipped to handle any of your special requirements. Our high volume converting, rewinding, spooling, lever cutting and slitting operations ensures timely delivery of your product to your specifications.   
Our STAMPING FOILS  attract and create visual interest and appeal, combining high performance and great product line.  They are a natural choice when considering adding value, decorating and/or enhancing products.
We are one of the leading manufacturers and distributors of specialized materials for printing and packaging.  Our products are used to embellishing print products with unique glossy, metallic, diffractive, and tactile effects, and adding value to a wide range of diverse products.
As mentioned our foils are widely used in printing industries, packaging industries, textile industries and so on.
We are not only proud of having superior quality, competitive price, on-time delivery, innovative ideas and full service solutions, also a group of highly cooperative working fellows achieves your expectation anytime.
Customer satisfaction is at the heart of our company philosophy and feedback from customers is always welcomed. Our customers appreciate the quality of our  stamping foils, our competitive pricing, our reliability, efficient processing service. The expert advice we're able to offer to ensure that professional touch for all your stamping foil needs.
We focus on quality,
attractive holographic foils and
brilliant metallic foils.
We deliver high quality, innovative products as effectively as possible and provide countless solutions and opportunities to the industries which we serve.
The Henan Foil presents a complete collection of 2.268 Metallic colors, Holographic, Pearls, Neons for print and packaging, including 54 new trend- and market-relevant colors.
A quick reference to just a few of the many ways that metallic effects, holographic effects, matt effect and pearled effect can be enhanced for your print projects needs.
PP Premium series  foils can be processed more quickly and more easily, are more robust and suitable for more substrates and motifs. They make very flexible and cost-efficient finishing possible for the user. This has been confirmed by our delighted customers.
We are stamping foil producers. Delivering you outstanding Stamping foils. There are no printing limits on the road to excellence.
With a portofolio of prestigiouse foil both in Asia and across the globe HENAN FOILS has a strong commitment to providing our customers with the quality and service they expect in what has set Henan Foils apart and has lead us to be identified as one of the largest and most respected manufactures and distributors of stamping foil in the world.
HENAN FOILS is not just a commercial brand; it is connected with the development of the Asian premium foil industry.
We have customers from all over the world; they demand performance, reliability and exceptional stamping foil. And that's why they choose HF, backed by premium quality.
Henan's highly skilled and trained staff of chemists and technicians develops products that continually meet the demands of the market. They also conduct analytical testing such as spectroscopic analysis and physical properties determinations, and recommend quality initiatives. R&D also performs customer specific test requirements, and provide custom color matching, technical and sales support.
HENAN FOILS is fully staffed with qualified and courteous customer service representatives. Working closely with your direct sales representative, our customer service departments is a valuable resource for product, technical assistance and follow up on all your orders through the manufacturing cycle to shipment.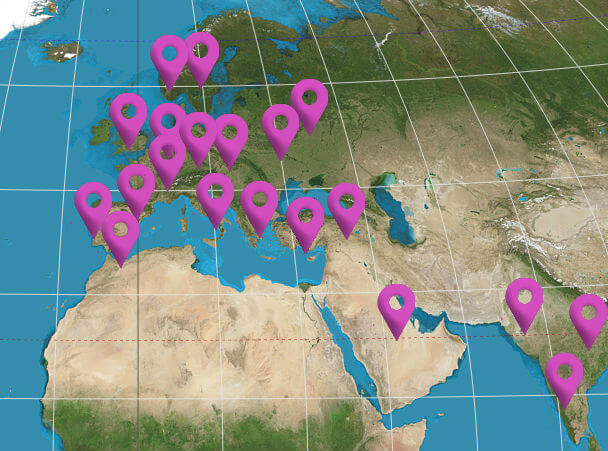 CLIENTS IN EUROPE AND MIDDLE-EAST
"Don't be afraid to give up the good for the great." Our reputation for Products, Service savings is our most valued asset. We never stand still and neither business. Our currency is trust, by standing for the values that defended us over the years.
The most performing stamping foils can only be found at HENAN FOILS. And why should you believe this?  Maybe because customers around the world tried it. And love it.