We invite you to enjoy a print demonstration with PPA, PPP, PPL, PL and PV-Plus  find out how our technologically advanced stamping foils  can transform your productivity – and streamline your workdays.
Our Metallic Foils offers printers and designers unmatched versatility in a hot stamping foil. The versatility of our PP Metallic Foil product line spans nearly every conceivable graphic arts application from fine line to broad area coverage on coated and uncoated stocks.
Ideally suited for low temperature, low-pressure applications, our PP series offers easy stripping at high speed to produce clean, crisp impressions.
PP series excels in high-speed rotary press applications allowing for increased productivity and efficiency.
Grassing problems on foilboard are minimized.
Excellent gloss retention on both coated and uncoated stocks, the hallmark of this foils is its compatibility with ink.
The PP series is available in a range of silvers, golds, colors, and metallic black.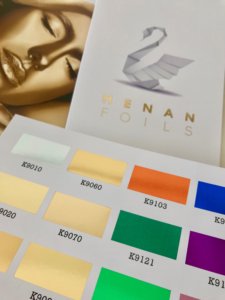 Beauty lies not only in the eye of the beholder but in the imagination of the designer, the hand of the printer, and the heart of every producer who fuses beauty with efficiency.
As you would expect, we want our customers to be successful and happy, and feel like they are part of something that they can proud of.
It all comes down to choice. A choice to "shine up" the graphic world with our metallic foils.
The Henan Foils guarantee is reliability, consistency in quality and turn-key price. It is how we prefer to do business.
Become a part of Henan Foils family overachievers.
All of this takes metallic foil beyond a printing experience, to a place where you'll discover true exhilaration.
DAZZLING
You want your work to be brilliant. To dazzle. Henan 's Stamping Foils, has been made to give that diamond hard, dazzling finish. For unmistakable gloss, durability and The best keeps getting better, printers who know best always choose HENAN FOILS.
For ultimate finish, your first and last choice is HENAN FOILS. FINISH FIRST.
We believe that quality is the only way to succeed. We want to produce stamping foils of a European standard with an Asian budget.
Think about it… What printing is really about?
Is your print still a project number, a work site wrapped up, or are your enjoying printings?
At Henan Foils we understand what printing is really about. We create your vision to the absolute highest quality in less time. Experience the pinnacle of printing with proven and trusted Henan's stamping foils. On time and on budget.
At Henan Foils, we deliver what we promise.